Pizzas and Specialty Pizzas
Hand-thrown dough made fresh daily topped with homemade pizza sauce, 100%" real mozzarella cheese, fresh-cut vegetables, and top quality meats.
Calzones
Made to order with hand-thrown, fresh made pizza dough.
Pastas
Served with dinner roll, butter, and parmesan cheese.
Chicken and Shrimp
Fried chicken is prepared in-house wffh homemade breading. Shrimp by the pound or complete dinner.
Sandwiches
Top with your choice of fixings and condiments: lettuce, tomatoes, onions, mayo, ketchup, mustard, or pickles. Combos include fries and a can of soda.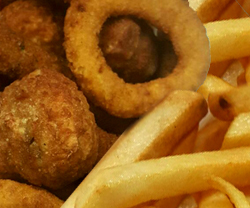 Appetizers
Complete selection of tasty additions to your meal.
Did you know that Windy City's:
Jumbo wings and fried chicken have homemade breading.
Veggies are cut fresh daily.
Soups are made from scratch.
Italian beef is specially seasoned, slow roasted,and sliced in-house.
Salads and calzones are made fresh to order.
Pizza and marinara sauces are homemade.
Pizza dough is made fresh daily.
Chicken breast is marinated and grilled in-house.
Delivery fees:
$3.00 – Calumet City & Burnham
$3.50 – South Holland, Riverdale, Dolton, Chicago, Lansing & Indiana
$4.00 – Hotels